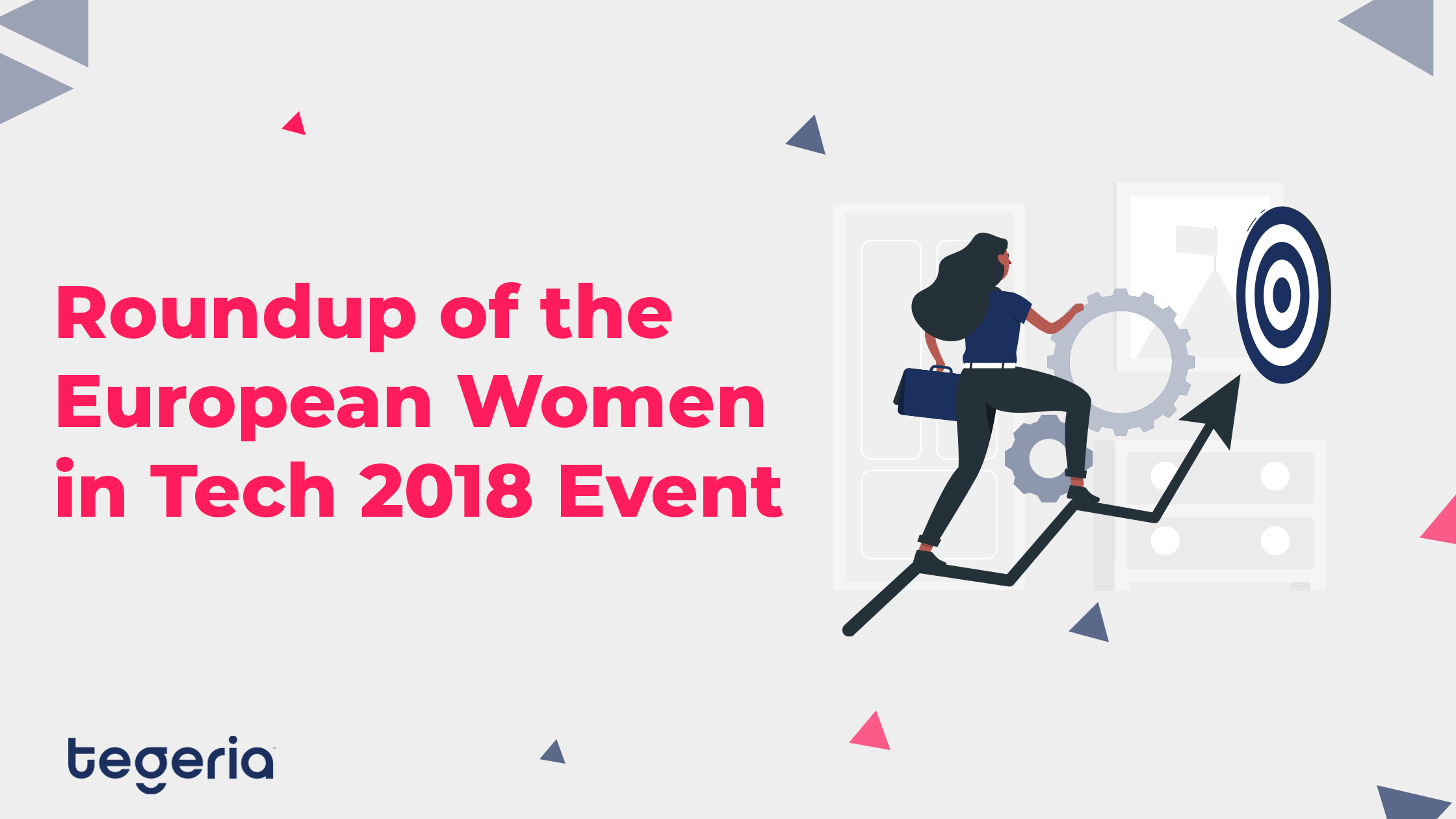 Roundup of the European Women in Tech 2018 Event
Last week was an exciting week at Tegeria as we organised our very first roundtable event on the even of the European Women in Tech 2018 event.
The roundtable took place on the 27th of November at the Pestana Riverside in Amsterdam. Attended by a handpicked selection of some of Tech's strongest female figures, the agenda included networking, food and drink, and a number of lively discussions on carefully curated subjects. Topics included "Tech environments; challenges, experiences, and cultivating the best culture for fresh talent" as well as "How to position your culture as leaders in emerging tech.
The event was a resounding success with all participants thoroughly enjoying the opportunity to meet and discuss with likeminded individuals, as well as find out more about each other, their sectors, and the future of the industry. It was the perfect start to what was to be a truly inspiring couple of days.
On the morning of the conference, over 3000 women, men, professionals, IT and tech fanatics, and members of the public arrived at the RAI in Amsterdam. Still buzzing from the success of the night before, we were eager, keen, and excited to catch as many keynote speakers as possible over the next 48 hours. This is who we caught up with.
Tatyana Mitkova, Co-Founder and CEO of ClaimCompass
We saw Tatyana deliver a powerful speech as well as having the pleasure to meet her in person at the roundtable event the night before. Tatyana heads up ClaimCompass, a company that provides assistance to help consumers get compensated if their flight is delayed or cancelled. As well as her success in the business world, she is also keen to encourage and support start-ups and she has been selected as one of Forbes Bulgaria's 30 under 30 as well as EY's Class of Entrepreneurial Winning Women 2017/18. Her talk entitles "So You Want to Be Your Own Boss?" focussed on the importance of not just having good business ideas, but knowing how to bring them to life. She talked about how to build the right team, get your first clients, fundraise, and how getting to know your customers is really the key to your success- a sentiment we completely agree with!
Meera Rao, Senior Principal Consultant at Synopys
Ms Rao is a director and senior principal consultant of the secure development practice at Synopsys Software Integrity Group. Her work focusses around helping clients set up and elaborate on their DevSecOps and CI/CD lifecycles. Meera's talk focussed on careers and personal development with a particular angle on mentorship. Key takeaways included how to find a mentor, what a mentor can offer you and how then learn to inspire others.
Ineke Verwijs, Head of Digital Technology Services at Fujitsu Technology Solutions
As the Head of Digital Tech services for Fujitsu, Ineke holds responsibility for the full Customer Service Management delivery organisation as well as providing all services to all IT-Services and Application customers in The Netherlands. Ineke spoke on day two about Emotional Intelligence and how the concept of digital empathy works in today's growing industry. She explained how to develop IT solutions and explore the development of IT delivery whilst understanding the growing demand for digital empathy.
Olivia Schofield, Founder and CEO at Spectacular Speaking and Vocal Women
As an international award-winning speaker, Olivia has worked extensively as an executive coach and key not speaker across five continents and 24 countries. Her clients include tech companies such as IBM and Microsoft, amongst many others. Olivia's talk was entitled "Be boldy you: Turbo charge your executive presence" and shared stories of women in tech who have made their way to the top positions in the industry. Touching on use of language and attitude, Olivia explained how to make your leadership potential more noticeable.
Naomi Smit, Partner at McKinsey and Company
As a Partner in Digital at McKinsey, Naomi also has extensive experience in the Telco and High-tech sectors. She specialises in building digital businesses, adopting the best technologies, and implementing agile and lean methodologies. Naomi offered a workshop that gave us an insight into how to build a digital business and how to think about product, services, and experiences. The workshop guided us on business building methodology and how to map customer journeys, create business models and even how to make an effective elevator pitch for ideas and services.
Karin Hilton Senior Director and RDM & FCA Technology at Elsevier
Karin is responsible for the technology teams that drive the Elsevier portfolios of Research Data Management and similar. She has extensive experience across apps, email, financial and sales platforms, and she is a non-executive board member for Code to Change, a group that supports mid-career women to enter the world of IT. Karin spoke at length on the challenges that present themselves when creating smart systems designed to accelerate science and research. She also touched on how gender can affect scientific results and how technology can impact science.