How to make the best out of your Q4 business goals?
As the end of the year appears closer,  there's a mixture of emotions within the business world, like excitement and fear blended together.
On one hand, there are the concerns to close any performance gap your fourth quarter plans initially had in place. On the other, there's this energy of action and prosperity, especially for salespeople. B2B buyers are finalising their budgets for the coming year, and many are looking to purchase new solutions before the holidays bring their inevitable slowdown.
Here's how you can make the best out of these 3 countdown months:
 Focus on the essence of your business, your customers.
The most effective way to drive sales, grow your business and build solid foundations for a flourishing new year is through customer engagement. Check out your social media marketing results. Who has been the most interested in your brand? Who's driving the most clicks, shares, responding, and most importantly, actually buying your products?
As you evaluate these most active users, consider offering them discounts, insider deals, and an overall "premium assistance". Remember, spoil the loyal!
As per new targets and inactive ones, as we mentioned before, this is the perfect time to make your products and solutions as visible as ever. Reach out to potential leads, and make the most out of your digital (or real-life) elevator pitches!
SMART goals.
SMART is an acronym for the 5 elements of specific, measurable, achievable, relevant, and time-based goals. It's a simple term used by businesses to practice actionable goal-setting that end with visible results.
Of course, you should be visionary with your ambition, that's what an innovative business does. But act with accountability and push for achievable targets.
Feedback – inward and outward.
Ask for feedback – it's the best way you can improve and evaluate what isn't flowing properly. Whether it is coming from your customers, or your own team and employees. Both can offer unique perspectives. 
You could try to incorporate interactive and social feedback as well, i.e. polls or asking industry experts for input.  Meanwhile, you'll be gathering even more relevant information about your customers' likes and dislikes.
Highlight your presence at events and networking.
Conventions, large-scale events, so many things are happening during Q4! The thrill is amplified! Make sure to maximise your presence on these social occasions and communicate it with your audience as well.
However, keep it genuine.
As new connections will be made, keep the conversations going and hold momentum even when the event comes to an end.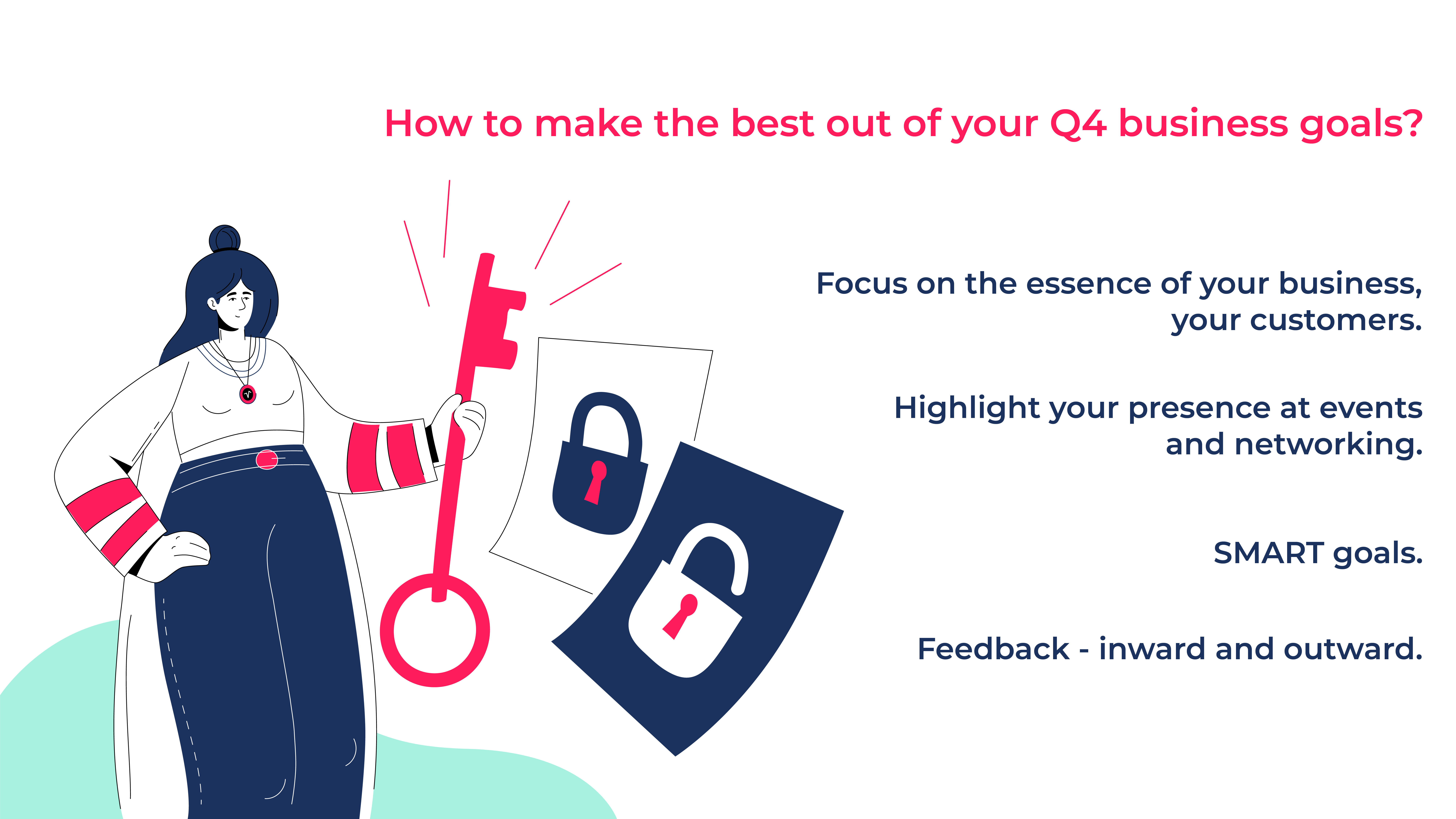 This is the period where you can get your performance back on track and finish off the year strong and prosperous. So make the most out of it and keep the energy running high!
And if you need more guidance towards your journey of business growth, make sure to check out: https://tegeria.com/